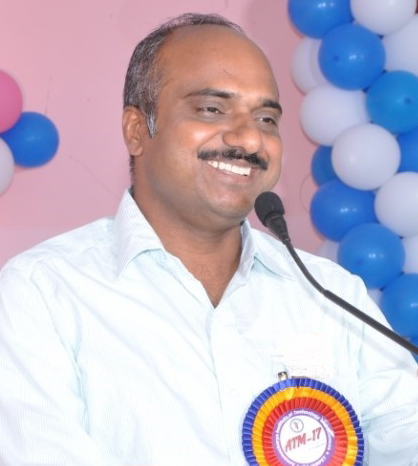 Prof. B. Eswara Reddy M.Tech., Ph.D
Director of Research & Development
At a Glance   |   Brief Profile   |   Bio-Data | About Directorate
Established in the year of 2009
Research & Development has been established in the year 2010, to promote and monitor the research programmes of the University. The Department administers monitors and Co-ordinates all the research programmes (i.e. PhD/M.Phil/M.S) of the University.  The R & D offers Ph.D/M.Phil/M.S programmes in the faculty of Engineering, Science, Pharmay, Humanities and Management in every year and conducts research Review Meetings in each semester to assess the progress of work and the quality of research being carried out by various Scholars.
Activities:
Research Methodology and Property Rights course work conducted for freshers.
RRM's conducted every year twice for all eligible candidates.
Guide interaction program conducted by R&D every year for freshers.
Course work conducted by the R&D every year for freshers.
22 Recognition Research centres are under JNTUA, The recognised research centres are providing scholarships as per AICTE/UGC norms and also providing facilities like Laboratory, Library, Internet, and Space for scholars and individual computer systems etc., the academic year 2013-14 the following colleges offers full time Ph.D. programs in the faculties of Engineering, Pharmacy and Management Science.
Pre-Submission Seminar Conducted by the R&D for Ph.D. Scholar's.
Plagiarism Check will be done by the R&D for thesis of Ph.D. Scholar's.
Viva-Voce Examination of Ph.D. Scholar's Conducted by the R&D in the respective departments.
Plagiarism check (Demo) workshop has been conducted on 30.08.2018 to the faculty members of the various disciplines.
Achievements:
Our's the 110th University signed in MoU with INFLIBNET (Shodhganga).
Anti Plagiarism check introduced in the year 2013.
UGC XII Plan grants allotted to staff for innovative research.
No. of Ph.D.'s Registered as on 2018 : 1967 Students
No. of M.Phil Registered as on 2018: 9 Students
No. of M.S. Registered as on 2018: 8 Students
No. of Ph.D. Degrees Awarded as on 2018: 783Students
No. of M.Phil Degrees Awarded as on 2018: 2 Members
No. of M.S.Degrees Awarded as on 2018: 2 Members
No. of Ph.D. Uploaded in Shodhganga as on 2018 : 545 Thesis
No. of Colleges granted Research Centres as on: 22 Colleges
No. of Students admitted Industrial Executive/F.N. as on 2017-18 batch: Students 29
No. of Research Review Meetings Conducted as on 2018: Meetings 16
No. of Research Methodology Conducted as on :2011-16 batch _ Classes 06
No. of Intellectual Property Rights Meetings Conducted as on 2014-16 batch: Classes 03
No. of Class Work conducted in core subjects for Ph.D/M.Phil./M.S.as on 2018 : 06 times