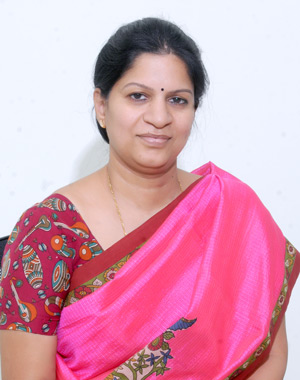 Prof. V. Sumalatha
Director of Industrial Relations & Placements i/c
At a Glance  |   Brief Profile   |   Biodata  |  About Directorate
The Directorate of Industrial Relations and Placements (DIR&P) has been established by the university in the year 2010 to promote industrial relations and to create a platform where the industry can recruit talented individuals. Ever since, the directorate is putting continuous efforts in interacting with industries for possible collaborations in the aspects of industry oriented curriculum, training, research and placements.
Activities:    
To involve industrial personnel in teaching and learning process, curriculum design and to participate on the board / committees.
To setup centers of excellence, collaborative laboratories with industries, and specialized testing centers.
To serve as single point of contact of university for the Organizations on various Industry-Institute Initiatives like Campus Recruitment, Internships, Industrial Training & Guest Lectures.
To plan for participation / organizing career fairs.
Achievements:
Collaboration with IBM to train and educate students of JNTUA as skilled and competitive information technology workforce.
Nodal Center for implementation of Minimalistic Object Oriented Linux (MOOL) which is integrated with Bharath Operating System Solutions (BOSS) developed by IIT Madras in collaboration with C-DAC across all the colleges under JNTUA.
Collaboration with Pariksha.Co for establishing placement preparation of undergraduate (UG) and graduate (PG) students of the university.
Collaboration with Sapience Consulting, Texas Instruments University program partners, in establishing Center of excellence in three constituent engineering colleges and training faculty members and students on industry oriented technologies through workshops, webinars & online contests.
Collaboration with Mobile Tutor Pvt. Ltd., Chennai for providing free e-learning materials to the students of JNTUA for the First Year Engineering subjects of all branches in both English and Telugu languages.
Collaboration with TOOOPLE Pte Ltd, Singapore to provide Experiential Learning on emerging technologies to students through mentored projects virtually, using technology on TOOOPLE Platform.
Initiated collaboration with Efftronics Systems Pvt. Ltd., Vijayawada in starting new PG program, M.Tech.- Internet of Things at the University campus college.
Organized several job fairs & training programs in collaboration with Andhra Pradesh Information Technology Academy (APITA) and Confederation of Indian Industry (CII).
Provided internship & placement opportunities to the students of the university in various reputed industries.
Nodal Center for ensuring uploading data of All India Survey of Higher Education (AISHE) successfully by all the colleges under JNTUA. Ministry of Human Resource Development (MHRD) initiated an All India Survey on Higher Education (AISHE) in the year 2010-11 to build a robust database and to assess the correct picture of higher Education in the country. The University has been successfully completing this annual survey since 2010-11.