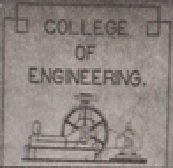 First Emblem of CEA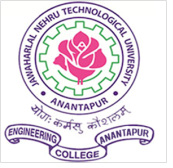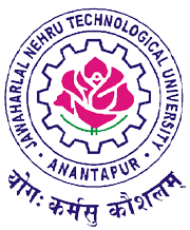 Genesis: –   At the time when there was only one Government Engineering College at Guindy Madras for the entire former composite Madras province, three new Government Engineering Colleges were sanctioned under post second world war reconstruction programme, one at Coimbatore (1945), one at Kakinada(1946) and one at Anantapur(1946). The college of Engineering Anantapur was temporarily located at Guindy in 1946 and later shifted to Anantapur in 1948. The first batch of 60 students was admitted into the college at Guindy, Madras on 10th June 1946 and so the college started its historic journey on that day. Major B.H. Marley was appointed as the first full-fledged Principal of the college after shifting the college to Anantapur. The college was located in Military Meat & Dehydration factory in the present old campus. All those Engineers who went through that kerosene era who studied in the light of hurricane lamps rose to very high positions in their professional career all across the globe.
The college was formally inaugurated at Anantapur by the then Honorable Chief Minister O.Ramaswamy Reddiar. Later, about 300 acres of land was acquired to establish a new campus. The College Main Building, three Laboratories, one Workshop Block and Power House were constructed in 1958 at a total cost of Rs.18 Lakhs. The college was initially affiliated to Madras University during 1946-1955 and to Sri Venkateswara University, Tirupathi during 1955-1972.
In the year 1972, under a broad policy of framework of providing technological education required for the industrial growth of the country in general and more particularly for the state of Andhra Pradesh, Jawaharlal Nehru Technological University (JNTU) was established on 2nd October 1972 by an act of State Legislature; rightly named after the ardent lover of Science and Technology, Pandit Jawaharlal Nehru, the first Prime Minister of India. Government Engineering College Anantapur, Government Engineering College Kakinada and Government Engineering College Nagarjunasagar (later it was shifted to Hyderabad) were made as its constituent units. JNT University started functioning from Hyderabad. Thus, the College of Engineering, Anantapur went into the fold of JNTU and the college was renamed as JNTU College of Engineering Anantapur. Subsequently, JNTU Act 1972 was amended by JNTU Ordinance, 1992 to affiliate any other college or institution notified by State Government of Andhra Pradesh. Eventually JNTU, Hyderabad has become a multi campus university.
Later in the year 2008, JNTU, Hyderabad was divided into four independent universities.   The Jawaharlal Nehru Technological University Anantapur (JNTUA) was established on 18th August 2008 by an Act of the Legislature of the State of Andhra Pradesh. JNTUA started functioning in the premises of JNTU College of Engineering, Anantapur (Formerly College of Engineering Anantapur). JNTU College of Engineering, Anantapur became a constituent college of JNTUA and was renamed as JNTUA College of Engineering, Anantapur. The JNTUA College of Engineering, Pulivendula, established in the year 2006 and Oil Technology Research Institute (OTRI), Anantapur, established in the year 1948 also became constituent units of JNTUA. A new constituent college – JNTUA College of Engineering, Kalikiri established in 2013 also came under the fold of JNTUA. The OTRI was later renamed as Oil Technology and Pharmaceutical Research Institute (OTPRI), in the year 2016. In addition to the above four constituent colleges, the JNTUA has 98 Engineering Colleges, 33 Pharmacy Colleges and 29 stand-alone MBA/MCA colleges affiliated to it.
Since its inception, JNTUA is committed to develop and nurture technological education and intends to produce technical manpower of high quality, comparable to the best in the world.