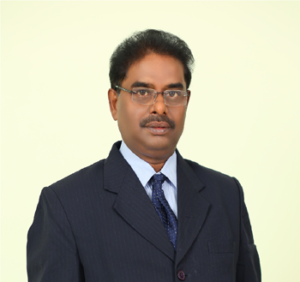 Prof. S. V. Satyanarayana M.Tech., Ph.D.
Director, Academic and Planning
At a Glance   |   Brief Profile   |   Bio-Data | About Directorate
Director
Established in the year 2008
Activates: –
Board of Studies (BoS) Meetings
University Purchase Committee Meetings
Preparation of Convocation Procedures
Applying for DSIR Recognition
Applying for NIRF Ranking                                 
Uploading data to Jnanabhumi Portal & KPI  Information  to AP Knowledge Mission website
Preparation of Memorandum of Understandings (MoU's) to be signed
Board of Studies (BoS)/Academic Programmes:
The University is offering the following Programs:
Tech. Programs in 15 different branches of Engineering besides B.Pharm. and Pharm.D.
54 M.Tech, 11 M.Pharm, 06 M.Sc., 04 M.B.A., M.C.A., and Pharm.D.(P.B.) Programs.
Research Programmes in 14 disciplines related to the fields of Technology, Science, Pharmacy, Management studies and Humanities.
New Concepts Introduced in the Curriculum : –
Gap Year – B. Tech, Minor Discipline – B. Tech, CBCS – B. Tech, MOOCs – B. Tech & M. Tech, Online Examinations – B. Tech & M. Tech & Teaching Assignments- M. Tech.
University Purchase Committee Meetings:–
Purchases (Equipments, Software, and Material etc.) of the University and University Constituent Units which are above One Lakh will be examined by the University Purchase Committee which will be constituted by the Vice-Chancellor of the University. The University units are procuring such as Equipments, Software, and Material etc. by following the University Purchase Guidelines.
Convocation Procedures:-DAP Office is preparing VC Report, Convocation Procedure, Convocation Address & Citation. JNTUA is conducting convocation every year regularly. 9 Convocations are conducted so far.
DSIR:- JNTUA, is registered with the Department of Scientific and Industrial Research (DSIR) for the purpose of availing customs duty exemption.
NIRF Ranking:- The DAP Office has successfully uploaded the data of University, all constituent colleges online to National Institutional Ranking Framework (NIRF) Portal in 2016, 2017 and 2018. Result: – The University has ranked in the band of 101-150 under NIRF 2017.
Jnanabhumi Portal:-The University has got 1st Rank under Category A for uploading the information in to the Jnanabhumi portal
Key Performance Indicators:-JNTUA was regularly uploading KPI information in to AP Knowledge Mission website.
Memorandum of Understandings (MoU's)
This directorate is responsible for preparing the MoUs to be signed by the University. So far the University has signed
Twenty National MoU's
Four International MoU's