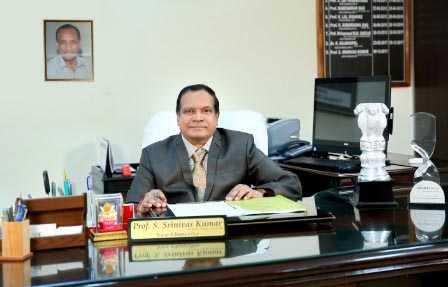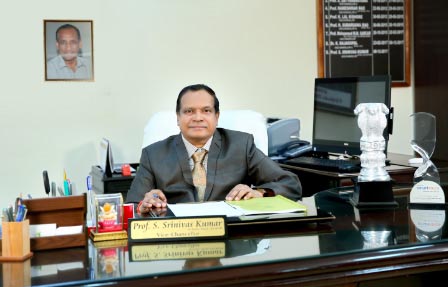 Prof. S. SRINIVAS KUMAR M.Tech., Ph. D. (IIT KGP)
Vice-Chancellor
It is great pleasure to me to convey my heartfelt greetings to all the Members of Executive Council, Members of Managements of Affiliated Institutions, Rector, Registrar and Directors, Principals, Students of Affiliated and Constituent Institutions, Teaching faculty, Non teaching staff in the occasion of New Year 2019. I wish them all a very happy and prosperous New Year.
I have completed one year of my tenure as Vice-Chancellor of this prestigious University. It is a memorable experience to me to be with you and be a part of the development of this University to develop the academic ambience, in addition to the development of Infrastructure.
Emphasis is given to start the new courses in the constituent institutions, to accelerate construction activity in the University campus, to develop the research culture by framing the guidelines of R&D, to procure the additional land to this University, to initiate the faculty recruitment following the specific guidelines, are few of my activities during the last one year.
Collaborate, Educate and Innovate are the key steps for the development of the academic society. This University is stepping ahead to follow these footsteps. Starting the new collaborative programmes shall be initiated with leading industries and foreign Universities in the years to come.
All academic blocks and Hostel blocks in the two constituent colleges, viz., University College of Engineering, Anantapur and University College of Engineering Pulivendula shall be revamped in the forth coming years. It shall be made mandatory for the biometric attendance in all affiliated and constituent institutions, while emphasis shall be given for quality of education.
Curriculum  shall be designed as per the AICTE guidelines to suit the requirements of the Industry, and planning ahead for dynamic curriculum than static curriculum. We expect many such changes in developing the academic and research culture in constituent and affiliated institutions. All necessary steps shall be taken to attain the vision of the University and to prepare the students to meet the global challenges.
I request and wish to all the members of Executive Council, Members of Managements of affiliated Institutions, Principals, Directors, Faculty members, student friends to direct their thoughts to succeed in the directions of meeting Vision and Mission of the University.
Once again, I wish all a very happy and prosperous New Year and greetings to all.
Prof. S. Srinivas Kumar