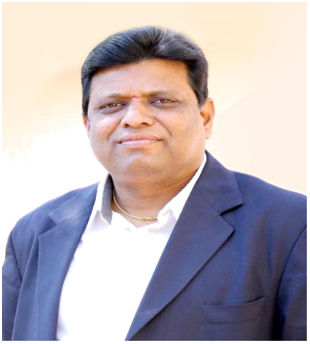 Prof. C. Sashidhar
Director of Industrial Consultancy Services i/c
At a Glance   |   Brief Profile   |   Bio-Data | About Directorate
The Directorate of Industrial Consultancy Services Established in the year 2012
Activities:
The main objective of DICS spearheads the Consultancy of all departments apart from over all construction works in the University, Finalization of Tenders awarding of works to contractors, supervision of all the works.
Checking of Structural Designs and Designs Checking as per the request of the Government department.
The Directorate will also conduct the 3rd party quality control Tests for the works executed by the Government Sector or Pvt Sector.
Any other work assigned by the Vice-Chancellor.
Achievements:
During the Financial Year 2009-10 Four works are executed i.e., Infrastructure Development, Formation of Roads, providing Street lights in CEP and Construction of Organic Chemistry lab Building in OPTRI Anantatapuramu.
During the Financial year 2011-12 Eight works are executed i.e., Academic Block Building, Work-Shop Laboratory-II for Mechanical Engineering and Repairs works in the Quarters in the CEP, University Examination Block, Women's Hostel, Women's Welfare Office, Renovation of Seminar Hall and Multipurpose Auditorium (Balance work) in the CEA.
During the Financial year 2013-14 Six works are executed i.e., Repairs to Ellora Hostal (Boys) and Shilpa (Girls) Hostel, Compound wall to Lepakshi Hostel, Shed at Civil Engineering Dept., Providing 11 KVA HT Supply/500 KVA of Transformer, Formation of Internal Roads in the Residential Camps and Additional Accommodation for ECE Dept. Const. of Hostel Block over existing first floor in Shilpa Hostel in
During the Financial year 2015-16 one work executed i.e., Widening of Internal road and Providing Footpaths at JNTUA Anantapuramu.
During the Financial year 2016-17 Two works executed i.e., Providing essential accessories for Multipurpose Auditorium and Design supply, Installation, Testing Commissioning of 200 KW Roof Top Model solar.
During the Financial year 2018-19 Two Project works executed i.e., Construction of Integrated Lecture Hall Complex, Administrative Block Gym, Yoga & Meditation Hall in CEA and Boys Hostel at CEP. One MOE also Concluded with APMSIDC for the project work Construction of Buildings for Skill Development Centre, Hostel Block for SC/ST Students Indoor Stadium and Shed to University Examination Block.