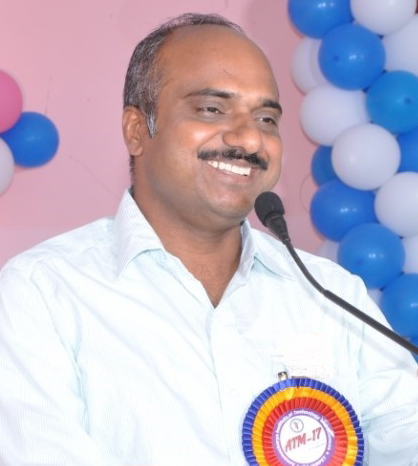 Prof. B. Eswara Reddy
Director of Faculty Development i/c
At a Glance   |   Brief Profile   |   Bio-Data | About Directorate
The Directorate of Faculty Development (D FD)
Established in the year 2018
Activities:
To upgrade the knowledge and skills of faculty members in the institutions of higher education.
To develop interpersonal skills and communication skills of the faculty.
To orient the faculty toward the competitive curriculum design and use of latest technology for teaching and learning process.
To provide the skills set to the faculty for knowledge acquisition, knowledge dissemination, knowledge evaluation, knowledge creation, knowledge preservation and knowledge application.
To inculcate the organizational skills, ethical values, professional skills to fulfill the multi-tasking needs of the faculty.
To provide a platform to interact with reputed industries and organizations This may promote research and consultancy projects and IPR generation.
To abreast the faculty with advances in their respective fields.
To keep the faculty engaged with the cutting edge technologies and continuous leaning processes.
To produce skilled manpower of high quality comparable to the best in the world and inadequate numbers to meet the complex technological needs of the country.
To develop the entrepreneurship development skills to the faculty and in turn to the students.
Facilitating the creation of a learner-centric environment conducive for quality education and faculty maturation to adopt the required knowledge and technology for participatory teaching and learning process.
Dissemination of information on the various quality parameters of higher education.
Development of Quality Culture in University.
To develop a quality system for conscious, consistent and catalytic programmed action to improve the academic and administrative performance of the University.
To promote measures for institutional functioning towards quality enhancement through internalization of quality culture and institutionalization of best practices.
Achievements:
Framing of guidelines and on-line application to sponsor Faculty Development Programmes in constituent and affiliated Institutions.
Sanction of AICTE Training & Learning (ATAL) Academy Programmes to the University.
AICTE sponsored Faculty Development Programme for Student Induction.
Faculty Development Programme under CSR by reputed organizations like Google.
AICTE, NCC-IP sponsored on-line Workshops related to "Universal Human Values".
Planning and organising Short Term Training Programmes for Teachers in association with Faculty Development Cell, AICTE.
Planning and organising Workshops/Faculty Development Programmes /Webinars in association with various Colleges.