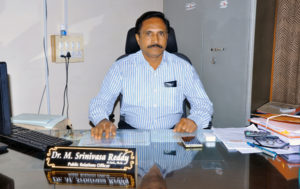 Dr. M. Srinivasa Reddy,
B.Tech(Mech.), M.Tech(Heat Power R&A/C), Ph.D(I.C. Engines), MIE(IEI), FCI,
Public Relations Officer
JNT University Anantapur, Ananthapuramu
Phone: 08554 272449
Email : pro@jntua.ac.in
Responsibilities of P.R.O.
As a Media Liaison Officer:  
Gathering news and feature information within the University, planning, drafting and writing press releases, feature articles, background material.
Gathering, distributing and filing all media coverage.
Assisting in setting up an event such as a press briefing.
Maintaining contacts with the relevant media, promoting the use of personnel in broadcast and written media, and the publication of information across all media.
Developing comprehensive internal communications, writing, commissioning and editing material for the University magazine.
Perform other related duties as assigned or directed by the University.
As a Coordinator to Right to Information (RTI) Processing:
Maintain the Information Handbook under Section 4(1)(b) of Right to Information Act, 2005.
Maintain the Register-I and Register-II being under RTI Act.
Assisting to Appellate Authority and Public Information Officer (PIO) in the process of endorsement and collecting information from the respective APIO'S and other concern authorities.
Filling affidavits under 6(1) application / 19(1) for appeal.